New publication group stalling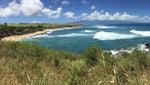 I'm creating a new access group on an existing publication group.  On this publication group there are three filters but I can't seem to make a choice on two of them.  The checkbox popup (on the first and third filters) won't just keeps spinning.
:
So I can't proceed and give those users access yet.  Why is it stalling?
Comments