Connecting to Outlook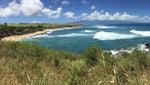 Our customer service center would like metrics on emails sent and receive.  Since we use personal and shared inboxes using Outlook, I'm trying to connect to the data using the Exchange app.  So far, attempts have been unsuccessful.
Has anyone successfully been able to acquire email data for Outlook before?  If so, what worked?
Comments