Dataflow Descriptions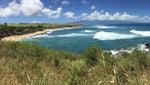 At a glance I can see a creator's commentary about a dataset in the dataset description field.  This can likewise be done with cards and Redshift/MySQL dataflows in their respective description fields.  But seemingly not with Magic dataflows for some reason.  If that doesn't exist, can we have it added?  Since we have multiple MajorDomo- and minor Domos, it's nice to see quickly what's going on with the dataflow inventory without delving into the code or transforms to see why a dataflow was created.
Aaron
MajorDomo @ Merit Medical

**Say "Thanks" by clicking the heart in the post that helped you.
**Please mark the post that solves your problem by clicking on "Accept as Solution"
Comments
This discussion has been closed.