Unsubscribe directly from alert email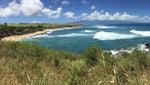 In each alert email there is an unsubscribe link.  That link really just seem to take you to the notification settings in Domo, as opposed to actually unsubscribing you from that particular alert.
I'd like to fully unsubscribe from an alert right from the email without going into the admin settings.
Aaron
MajorDomo @ Merit Medical

**Say "Thanks" by clicking the heart in the post that helped you.
**Please mark the post that solves your problem by clicking on "Accept as Solution"
Tagged:
Comments
This discussion has been closed.