Apply row limit on a different aggregation level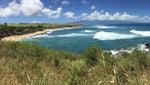 I have a stacked bar chart sales card of highest grossing customers, broken down by sales by product line.  I want to focus on the highest grossing customers, but if I apply a row limit I only see the top X customer/product line sales combinations, instead of top X customers in total. @Sweep_The_Leg had a similar question that I answered recently.
I want to apply the row limit to the total of an entire customer (not some of their product purchases that happen to be in the top X data rows).
The row limit functionality shouldn't be limited to just the axis and series combinations in the card.
Aaron
MajorDomo @ Merit Medical

**Say "Thanks" by clicking the heart in the post that helped you.
**Please mark the post that solves your problem by clicking on "Accept as Solution"
Tagged:
Comments
This discussion has been closed.