Show me which Dataflow transforms have been run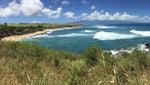 While editing dataflows, from the list view, I don't know which transforms have been run and which haven't.
I'd like a small check mark icon to indicate a step has been run.  We do get to see the small green "Valid" text, but that only appears in the edit window and only while it's open.  
Aaron
MajorDomo @ Merit Medical

**Say "Thanks" by clicking the heart in the post that helped you.
**Please mark the post that solves your problem by clicking on "Accept as Solution"
This discussion has been closed.