Support Ticket capability for my company only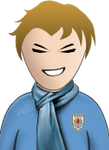 I wonder if is any way to have a Support Ticket system similar to the one you have for domo support at BUZZ (below pictures) but to be available for my company only, meaning to allow my company users to open tickets internally and allow me to manage those tickets and run reports (cards) out of it.
This could be a tremendous improvement for every DOMO Master in terms of Support Center and QA services to manage DOMO related issues/new request/etc. Easy to use, manage and with reporting capabilities.
Thanks for your support!
Please don't forget to vote to get traction with Product Development's team.
This discussion has been closed.