See a dataset's next refresh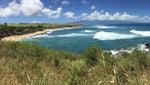 In the dataflow portion of datacenter we can see when dataflows are running and make an educated guess on when it will finish. In Workbench we can see when the next scheduled update is.  From the dataset portion of datacenter, we cannot tell that these corresponding datasets are in the process of refreshing or not. Because I can't see that on the dataset, I'm often searching twice in the datacenter to find what I'm looking for, which is insight into when I can expect a dataset to be refreshed next.
I'd like to see when the next expected dataset refresh is likely to occur, in the form of a notice in the datacenter on the dataset or even card detail, not just that it was run 7 days or 7 hours ago. As in I willb e able to see that the data will likely be updated in 3 hours.
Perhaps this datapoint could come from historical dataflow patterns, or an upcoming scheduled workbench job, or that a dataflow that is currently running and has 13 minutes left that usually takes 27 minutes.
Aaron
MajorDomo @ Merit Medical

**Say "Thanks" by clicking the heart in the post that helped you.
**Please mark the post that solves your problem by clicking on "Accept as Solution"
This discussion has been closed.