Domo on TVs via streaming device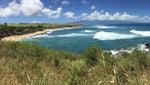 Many companies want Domo displayed on a TV, which requres either a connected computer or TV enabled web browser. However, not all TVs have browsers, computers are expensive, and many corporations don't support Apple products (there is a Domo app on Apple TV). 
My idea is an app or channel for devices like Roku, Fire TV, Chromecast. Can Domo build an app for those devices?
Aaron
MajorDomo @ Merit Medical

**Say "Thanks" by clicking the heart in the post that helped you.
**Please mark the post that solves your problem by clicking on "Accept as Solution"
This discussion has been closed.