Remove Duplicates for Append Before it Gets to Domo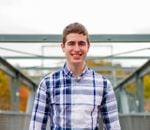 I have some data i want to bring in but unfortunately the source data is a "Keep most recent X records" not a "Keep the last X days records". 
One option I know would be to just append it daily and then have a dataflow that removes the duplicates and it would give me what I'm looking for, however this would mean my original Domo dataset would become bloated (~365000 rows/yr). How might I remove duplicates before it gets to Domo?
---

**Make sure to like any users posts that helped you and accept the ones who solved your issue.**